A new year is now upon us and looking back on our fly fishing successes and failures of the last season and what we took away from it now gets us looking forward to new experiences and trials for what's to come, filling us with thoughts of excitement and feelings of restlessness. As we remain locked in ice, the realization of another 4 months of snow-covered conditions before we see signs of open water and warm spring days brings on what is commonly referred to as the Shack Nasties. So what's a person to do during these early days of January when looking out the window sees nothing but a white blanket of frozen water covering the neighborhoods of our urban sprawls? Lucky for us, January in Alberta is not only a time of reflection but also a time of learning and interaction within the fly fishing community.  Several high profile workshops, seminars and gatherings are scheduled each January that help all of us continue down the learning path, leading to new discoveries once the time comes to head out on another new fly fishing adventure. Whether you're interested in a weekly, monthly or annual gathering, there are several options available to the fly angler to fill up that empty block of time before the big melt. Here are a few upcoming events that you can look forward to and possibly help you get over those shack nasties.
---
January 14th & 16th, 2013
T/U Red Deer River Fisheries Management Plan
In 1994, a Sport Fish Management Plan was completed for the portion of Alberta's Red Deer River from Dickson Dam to Joffre Bridge. The plan provided long-term direction for the fishery and included management options and strategies for managing the fish resources. The fisheries management goal of this plan was to provide a general recreational fishery for Northern Pike, Mountain Whitefish, Lake Whitefish, Walleye, Sauger, Goldeye, Mooneye, and Brown Trout.
There is now a need for a new fisheries management plan as the existing plan is almost 20 years old. Changes in river habitat, fish population numbers and other emerging pressures on this fishery prompted an update and review of the plan.
The new fisheries management plan will be developed by reviewing and updating the 1994 plan. The planning area has also been extended downstream from the Joffre Bridge to the Tolman Bridge.
The planning area has been enlarged to better reflect the management needs of the Red Deer River and distribution of fish stocks inhabiting this section of river.
The development of the updated plan and the actions to be taken by fisheries management will be informed and guided by the principles, goals and objectives identified in the Fish Conservation Strategy for Alberta (2006-2010). Public involvement and consultation will be a critical component of this review process.
Fisheries Management in the Red Deer Area has taken the initial steps to work with an advisory committee of stakeholder groups. The advisory committee has started working together to identify current issues to be addressed by the updated fisheries management plan. The next step in the process is to ensure all issues have been identified.
The Red Deer Fisheries Management Plan (Dickson Dam to Tolman Bridge) Public Meetings scheduled for Monday January 14, 2013 in Trochu, Alberta and Wednesday January 16, 2013 in Red Deer, Alberta will help gather feedback from the public on management goal and issues that should be addressed by the updated Fisheries Management Plan.
For additional meeting information including time, date and location please read the following documents by clicking on the bold text.
January 14, 2013 Trochu, Alberta
Meeting Information
January 16, 2013 Red Deer, Alberta
Meeting Information
---
Jan 19th & 20th, 2013
Brian Chan and Rick Hafele are the featured speakers for our January seminar. The seminar will be at McEwan University on January 19 and 20.  Tickets are available at regular club meetings for only $65 for both days or email inquires to
tickets@nlft.org
.
Brian's lifelong passion for fly fishing has resulted in his spending literally thousands of angling days on these world class waters. He has shared his extensive knowledge of aquatic biology, trout ecology, entomology, and lake fly fishing tactics with others, through a number of magazine articles, books, and instructional DVDs on fly fishing. Brian has been featured on many TV fishing shows and is currently a regular guest on Sport Fishing on the Fly and co-host of The New Fly Fisher.
In 1981, The Complete Book of Western Hatches, Rick's first book (co-authored with Dave Hughes) was published.  Since then he has co-authored or authored several other books including Western Mayfly Hatches, An Angler's Guide to Aquatic Insects and Their Imitations, and his newest book, Nymph Fishing Rivers and Streams.
---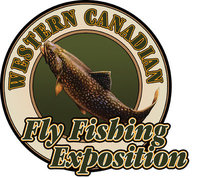 Spruce Meadows Equiplex
18011 Spruce Meadows Way SW
Calgary, AB
JANUARY 25 - 27, 2013
Friday | 12:00 PM - 7:00 PM
Saturday | 10:00 AM - 7:00 PM
Sunday | 10:00 AM - 5:00 PM
Parking | Free
Adults | $12.00
Kids | FREE for 12 and under!
Featuring:
GARY BORGER
RICK HAFELE
RICK WHORWOOD
CHRIS SEIPIO
RICK HARDING
CHICO FERNANDES
GEOFF PIEROWAY
JIM & LYNDA MCLENNAN
APRIL VOKEY
---
Wednesday Evenings @ 7:00PM
Queen Mary Park Community hall - 10844 117 St, Edmonton
The Northern Lights Fly Tyers – TU Edmonton is a group of dedicated and concerned anglers and cold-water conservationists who meet regularly throughout the year to converse about all things fly tying, fishing, and conservation. Although the groups founding principle was to get together once every week to tie flies, they have since branched out to cover all aspects of the sport.
In 2009, the Northern Lights Fly Tyers made their most bold move to date – merging with the Edmonton Chapter of Trout Unlimited. This merger created one of the largest active TU Chapters in the country, and set a new tone for both the Northern Lights, and Trout Unlimited with respect to their public offerings and outreach.